Ensuring your workplace is as safe as possible is a top priority for us, and so we've developed a range of products to help minimalize the risks of high impact collisions between people and the workspace.
Overview
We will survey the site and recommend the type of pad for any specific area. This can be any size or shape as each pad is manufactured individually to suit the purpose of the area it is covering. However, there is no restriction to the size of pads we can manufacture but in the interest of handling, the largest pad would normally be no longer than about 1m whilst the widest to date has been about 1.5m. The smallest could be as small as 50mm x 50mm.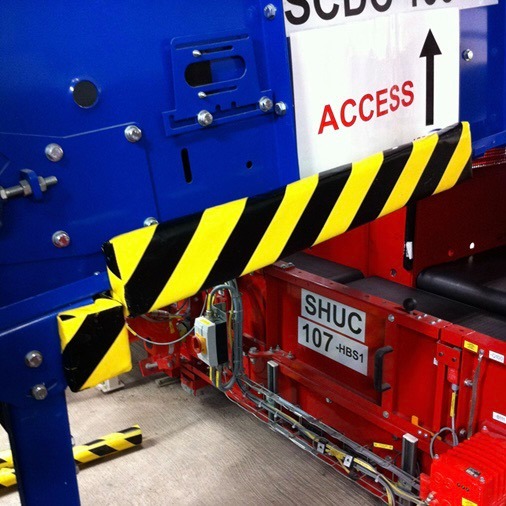 Design Solutions
The aim of this solution is to provide head impact protection materials for headroom restrictions below 2.1m to the identified areas as required.
All the Pads are constructed using 30mm Thick 8lb reconstituted Combustion Modified Foam and this meets the requirements of The Furniture and Furnishings (Fire) (Safety) (Amendment) Regulations 2010 Came into force 1st October 2010
The foam is covered in a Flame Retardant PVC coated Polyester Material weight 610gms. We use a Yellow PVC with a black printed Hazard Stripe as prescribed by the HSE to identify Hazard. The 55mm stripes are at 45º and are equally spaced. The head protection materials are used to fulfil the following criteria:
Robustness
Heavy duty-fit for purpose
Health and Safety standards
Colour
Life expectancy
Toxicity
Impact resistance
Flame retardant
Standardisation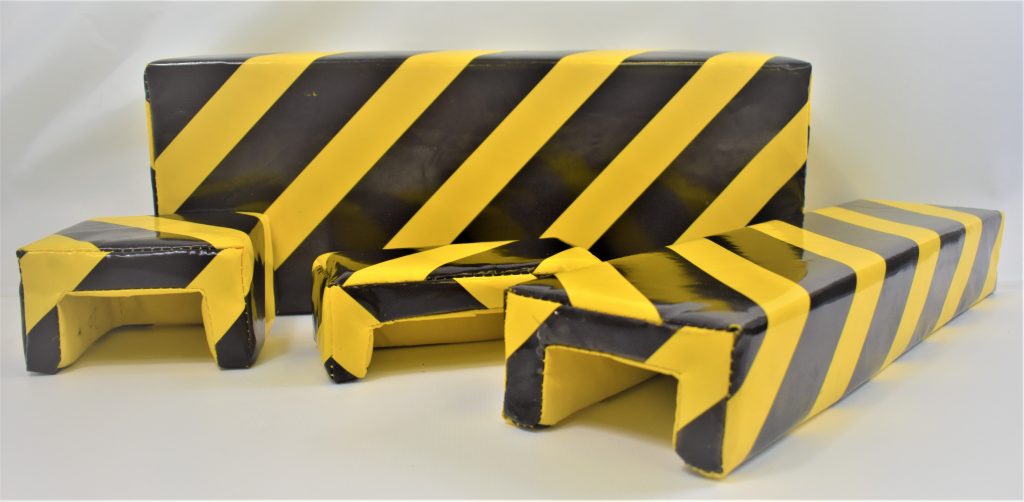 While we can manufacture bespoke items where needed, we have a selection of standard pads which should suit your needs, such as:
Rectangular Pad
L-Shaped Pad
U-Shaped Pad
Box Shaped Pad
Tubular Pipe/Post Cover
For more information on any of the pads, please contact us.
Installation
To provide adequate protection, the materials must also be installed and maintained correctly.
In most areas we will fit the pads using Bostik adhesive for fitting direct to the area as there are no fixing points on a lot of the areas. Some of our pads will have eyelets to allow for fixing with Cable Ties. We will always recommend the most effective, professional method of fit. Our experienced fitters will be responsible for ensuring the correct fitting method is used, the pad is fitted correctly and the tidiness of the area following the fitting.