Our lagoons & reservoir liners are used to fulfil requirements for irrigation lagoons throughout the UK. With continual climate change taking place, there is forever a growing demand for water. Increasing pressure on existing resources. With the team at Stephens Industries holding years of experience, we recommend each liner based upon the project requirements, budget and life-expectancy of the liner.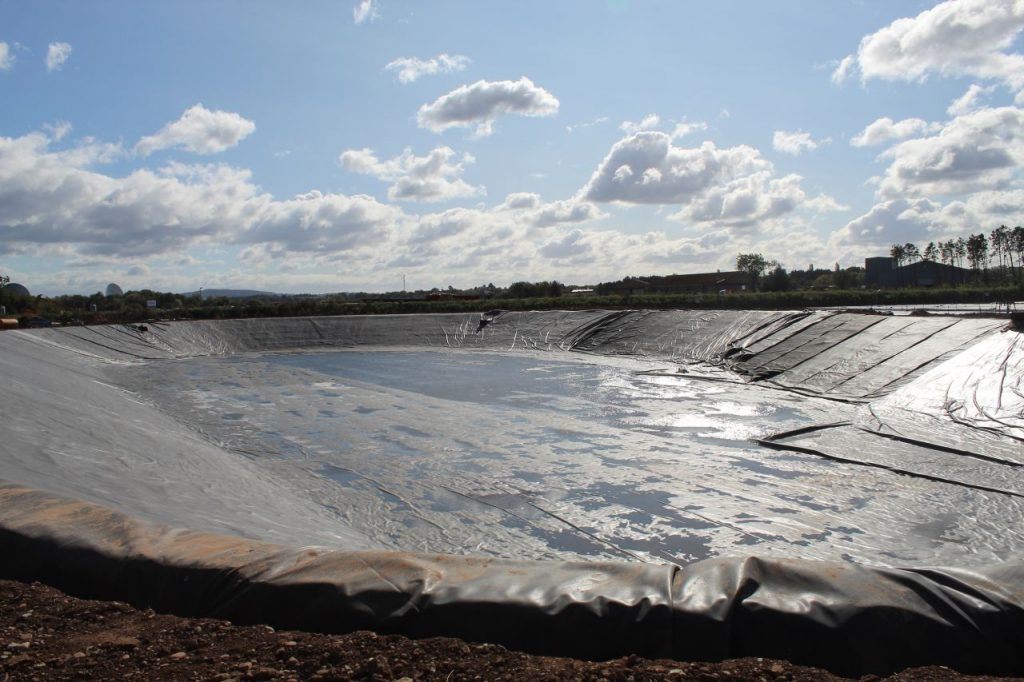 Overview
Irrigation Lagoon Liners are made with extreme durability and resistance to UV and many chemicals that may come into contact with the liner at any point. Having long-standing and non-toxic properties, our lagoon lining materials used here at Stephens Industries are picked using criteria to ensure they are as eco-friendly and usable as possible. With the combination of continual climate change and a growing demand for water, increasing pressure is being put on existing resources – This is where our liners can play a part.
Water reservation makes commercial and environmental sense. More and more, farms are moving towards water self-sufficiency and this is where our lagoon liners play a major part. Stephens Industries are leading fabricators and installation specialists for many lagoons and reservoir lining requirements. The installation of a well-designed irrigation lagoon can ensure that any seasonal water shortages, that could jeopardise irrigation and husbandry, has little or no impact on your business.
Materials
Firestone 1mm EPDM
Firestone PondGard 1.02mm EPDM is suitable for lakes, lagoons, generally used for the smaller scale projects. We can supply Firestone 1.02mm EPDM as cut sheets, in widths 8 – 50 ft (in 2ft increments) up to 100ft long. If larger sizes are required, then we can also add in a factory weld to join sheets together.
Firestone 1.14mm GeoGard EPDM
Firestone 1.14mm Geomembrane material is suitable for lakes & lagoons to be used for agricultural and industrial applications, generally used for the larger scale projects. We can supply this as cut sheets, in widths 10, 20, 30, 40 or 50ft up to 100ft long, and can supply single sheets up to 1100m² (e.g. 120ft x 100ft; 36.5m x 30.5m) can be joined in our factory and supplied as a single sheet, or installed by us for even larger applications.
aquaSHIELD Protective Matting
aquaSHIELD 300gsm protective matting is a high quality, non-woven polypropylene geotextile liner underlay for use with all types of liner. We would recommend that you do not install any liner without the protective underlay as this reduces the risk of damage during both installation and use, including from stones, roots and sharp objects.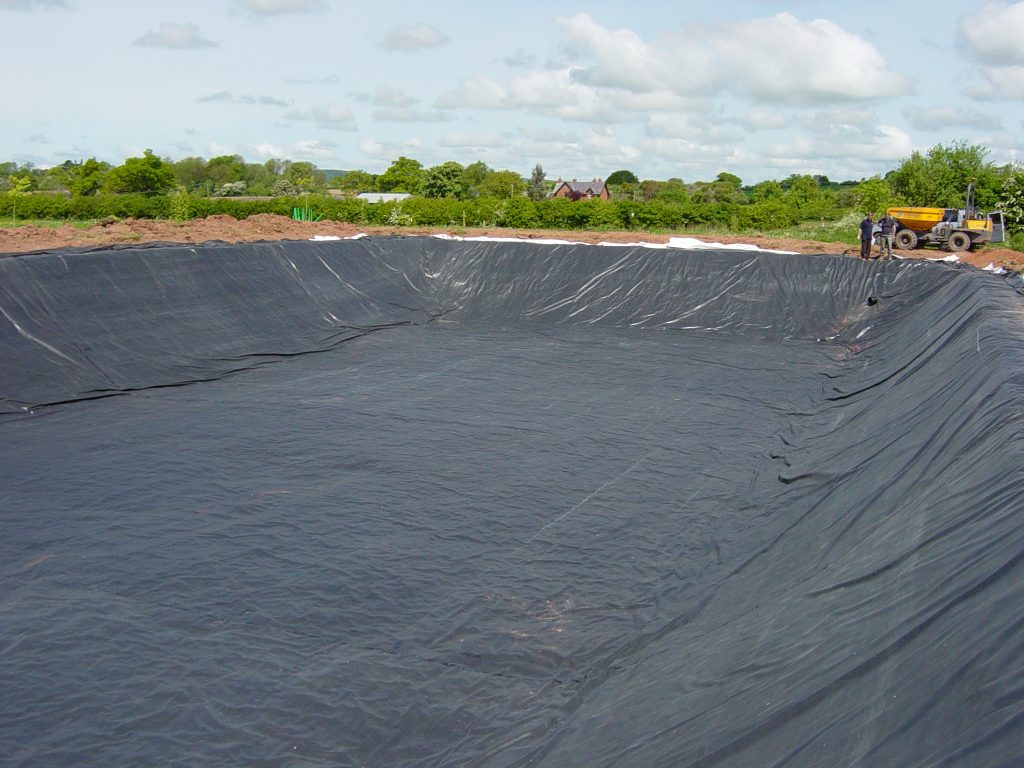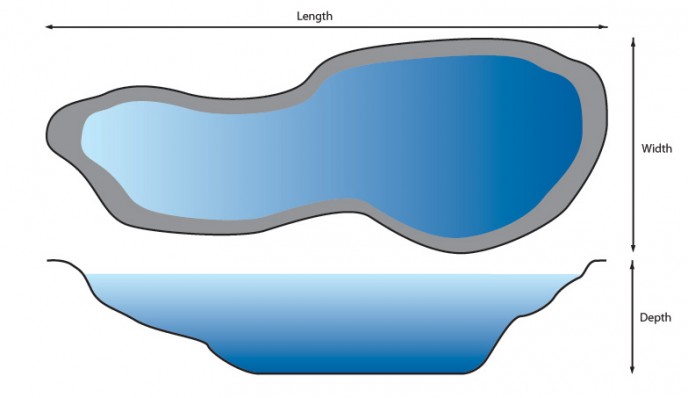 Measuring your lagoon
it is crucial to measure your lagoon correctly to ensure that you are confident of the scale and size. This is to be aware of precisely how much irrigation lagoon liner and protective matting you will need for your lagoon.
To acquire an accurate figure for the size irrigation lagoon liner that your lagoon will require, a range of factors need to be considered:
Length of the lagoon
Width of the lagoon
Depth of the lagoon
Angle of the lagoon banks
Once these factors are established; the size of the irrigation lagoon liner necessary can be planned with no complications. The liner size will also need to include further material for the sake of the security into the anchor trench.
Here at Stephens Industries, we take precise sizes of the lagoon to ensure the irrigation lagoon liner supplied is of the correct measurement, we do this via a full site survey service.
If you require further information on measuring the size of your lagoon, or wish to arrange a site survey, please contact us.
Installation Services
Stephens Industries has many years experience of in installing liners. We believe strongly that synthetic rubbers such as Firestone and Butyl / EPDM are the best materials for pond installation, as they are the most cost-effective over the life of the pond liner, typically 40 years. Cheaper materials are available, but they have a much shorter life expectancy.
As part of our pond installation service, we undertake site surveys to ensure that the pond or lake is properly prepared, to discuss the material options, measure the site accurately and review any special design and construction details such as bonding onto vertical walls and sealing around pipes. On agreement with all the details, our specialist trained team will install the liner.
Our installers are fully trained and qualified in Firestone, EPDM / Butyl and other specialist materials, and work throughout the UK. We believe passionately that Quality and Experience matters, so if you require a dedicated team to help you complete your project on time and with a quality finish, please contact us for a discussion about our expert pond installation service.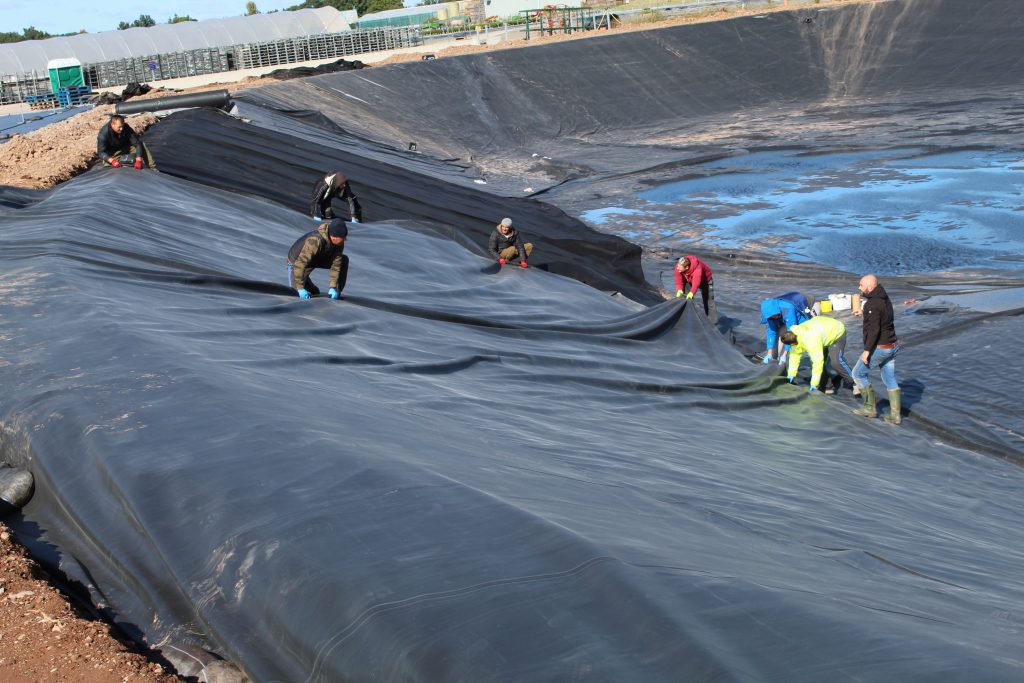 Gallery