Fabricating and selling EPDM for 65 years, including both pond liner and EPDM rubber roofing so you can trust that you are getting only the best quality products.
Flat roofing from Stephens Industries
Our EPDM roof membranes come in four grades, RubberCover, RubberTop FR, RubberTop and shedGUARD, each specifically designed for its application. We also supply a range of roof repair products & accessories to complete your rubber roof.
We are an authorised partner of SealEco and Firestone, our EPDM producers. But what really sets us apart is not only our attention to customer service but our fabricating abilities, which allows us to make bespoke sized EPDM roof membranes to your specification. This means you can have a one-piece installation of EPDM rubber roofing material even for L and T shaped roofs from our custom-made rubber roofing supplies.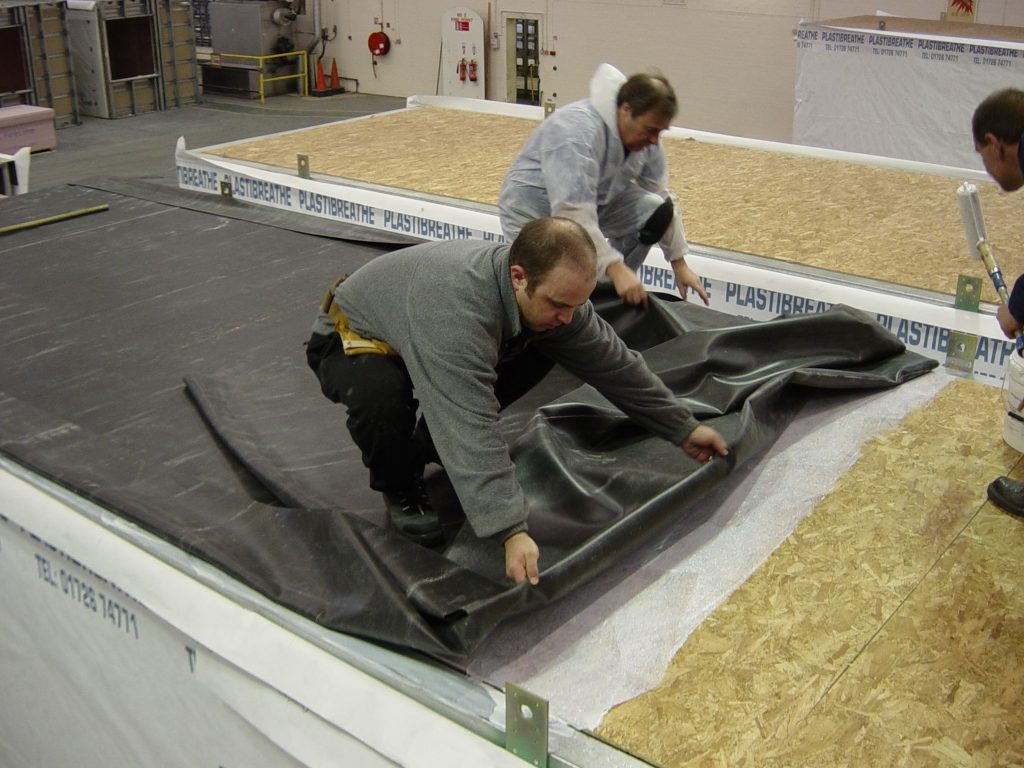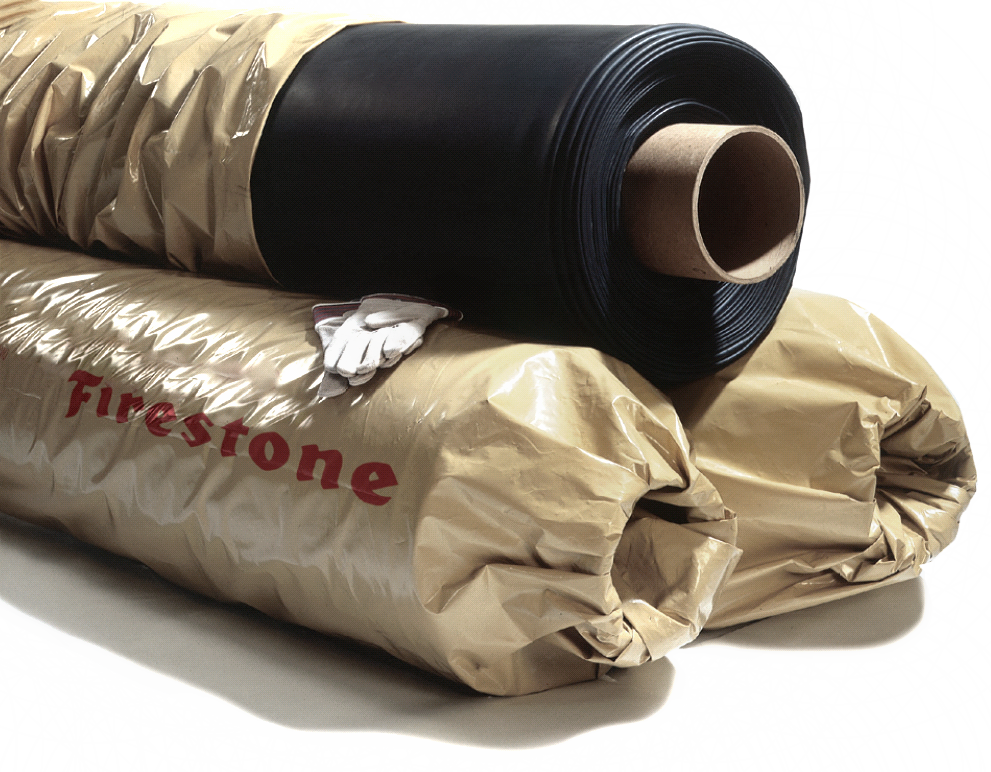 Firestone 1.14mm EPDM Roofing
Firestone has become a global leading manufacturer of rubber-based Roofing systems for a wide variety of applications.
Firestone EPDM roofing membrane has unique features and benefits that can guarantee you that your roofing installation is watertight and extremely durable. We are also able to create bespoke shaped panels if required.
Highly durable: EPDM rubber from Firestone offers unmatched resistance to ozone, UV radiation and high or low temperatures meaning they have a life expectancy of up to 50 years.
Very flexible: Firestone EPDM membranes remain highly flexible even at low temperatures, enabling year-round installation. The membrane can also elongate over 300% to accommodate building movements.
Environmentally friendly: Firestone EPDM membrane is an inert material with limited environmental impact both during manufacture and installation and high durability compared to other roofing membranes. In addition, our EPDM manufacturing facilities have received ISO 14001 certification for their environmental management system.
Low maintenance: EPDM requires little maintenance over its life and is easy to repair if it does sustain any damage, meaning it has a low life cycle cost.
Fire Resistance: The composition of Firestone EPDM membrane is such that no fire-retardant product has to be added for different roofing assemblies to obtain a BROOF (t1), BROOF (t3) or BROOF (t4) classification. For more information, or to request a sample, please contact us.
SealEco RubberTop and RubberTop FR 1.20mm
RubberTop FR EPDM is the fire rated version of our RubberTop material, suitable for uses where you are required to meet UK building regulations for fire.

SealEco have been producing EPDM and Butyl Rubbers for building protection, roofing, facades and basement tanking, and water retention, lakes and reservoirs, since 1967.

RubberTop is simple, fast and safe to install, with large, prefabricated panels meaning minimal joining is required onsite. RubberTop has a number of features that make it the perfect choice for your flat roof.

Fire rated: RubberTop FR has been tested and classified as appropriate to meet building regulations for fire with a number of roof build-ups, and holds a BBA certificate.

Highly durable: EPDM rubber from SealEco has unrivalled resistance to UV, ozone, temperatures and frost, meaning it has a projected life expectancy of over 50 years!

Very flexible: RubberTop maintains its flexibility even down to -45°C and can elongate up to 300%, making it easy to detail and providing the suppleness required to adapt to building movements and changes to temperature.

Environmentally friendly: EPDM is an inert material, meaning it will not have an impact on the environment over time. Producing it in Europe also means the transport mileage compared to other EPDMs is low.

Low maintenance: RubberTop requires little maintenance over its life and is easy to repair if it does sustain any damage, meaning it has a low life cycle cost.
If you are not required to meet building regulation's part B (fire safety), RubberTop provides a cheaper alternative.
For more information or to request a sample, please contact us.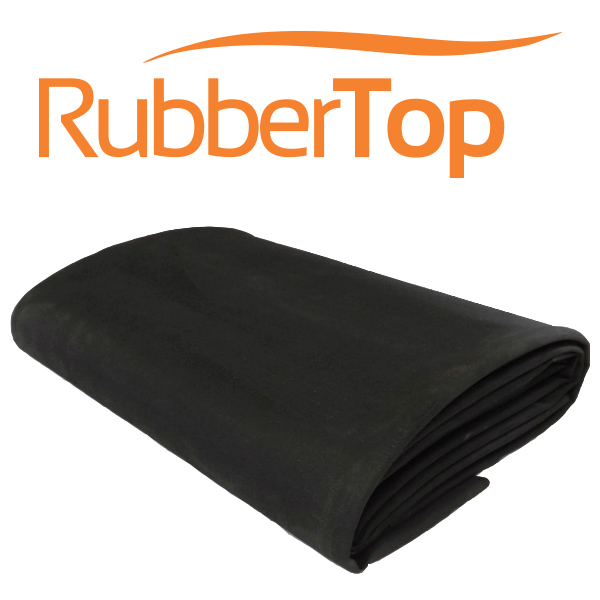 SealEco ShedGUARD 1.00mm EPDM
shedGUARD is our most cost-effective shed roofing material. Suitable for smaller projects such as sheds, garden studios and outbuildings where you want the benefit of EPDM and a great value for money.
shedGUARD is a 1.00mm EPDM roof covering, still possessing all the qualities of EPDM roofing; watertight, highly durable and zero maintenance. The thinner material makes it slightly lighter for loading on the roof and more flexible for finishing, meaning it is suitable for most applications and easy to install. Our shedGUARD EPDM shed roof covering is the perfect alternative to felt for your shed roof. For more information or to request a sample, please contact us.
System Components
There is more to roofing than just the membrane itself and so we supply a vast array of components to make sure you have everything you need to correctly install any one of our roofing options. Here are some examples of what we offer, please contact us for the full list and pricing.
Firestone QuickPrime Plus
Firestone Contact Bonding Adhesive
Lap Sealant
EPDM Roofing Trim
Firestone QuickSeam Walkway Pads
Silicone Seam Roller
Penny Roller
Drain Outlets and Pipe Boots
and much more…