Pond Liners are one of our highest selling products here at Stephens Industries. With our expert advice you can achieve a high quality, durable and beautiful pond. Through being in the lining industry for 65 years we can guarantee that the materials we offer are of the highest quality, and we show our commitment to this through offering a 20-year guarantee on our liners.
A simple and cost-effective method of constructing a pond
The use of a pond liner from Stephens Industries is a simple and cost-effective method of constructing a pond – which can be easily adapted for many different shapes and sizes. The choice of the liner material to be used is often based on its application; required life of the liner, site conditions, and budget. These are all things we are happy to discuss and offer our expert advice to ensure that the materials used are right for you. More information on the types of liners available from Stephens Industries can be found below.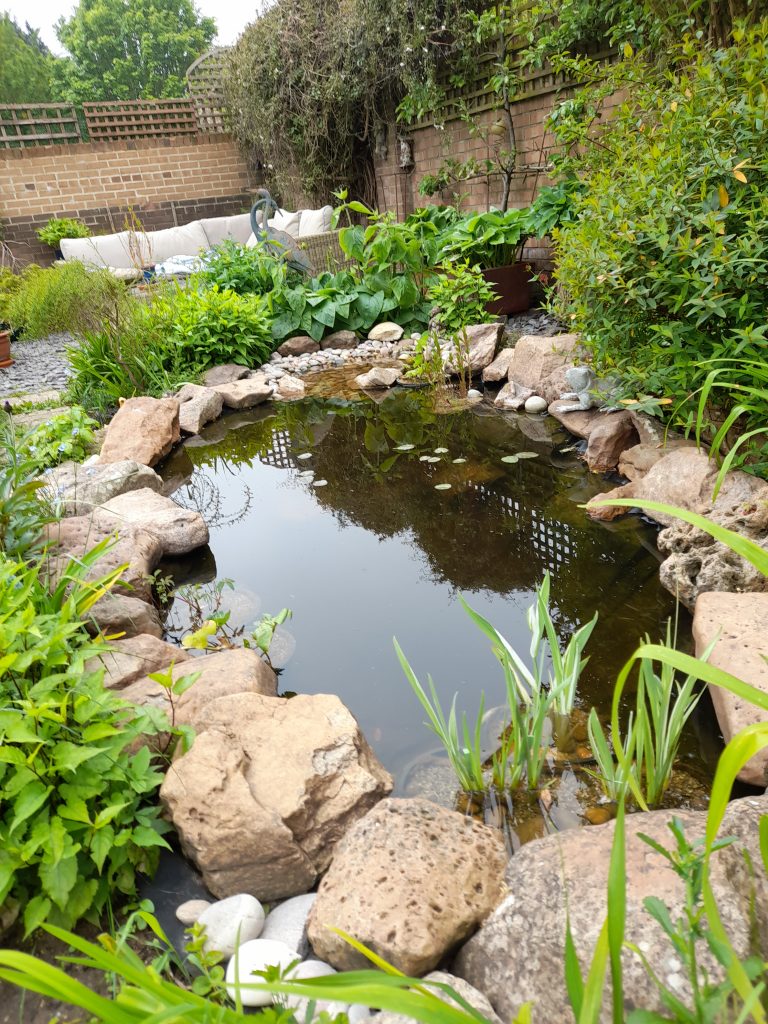 Lining Materials
Firestone Pond Liners
We have two options of Firestone Pond liners available:
Firestone PondGard 1.02mm EPDM is suitable for lakes, lagoons and swimming ponds of all sizes and shapes. We can supply Firestone 1.02mm EPDM as cut sheets, in widths 8 – 50 ft (in 2ft increments) up to 100ft long. If larger sizes are required, then we can also add in a factory weld to join sheets together.
Firestone PondEasy 0.80mm EPDM, this liner is sold by length (in metres), cut from large sheets varying from 3m to 9m wide and up to 30m long. This means you can get a seamless sheet up to 9m x 30m, making it ideal for small to large ponds.
Sealeco Pond Liner
SealEco 0.75mm EPDM, sometimes referred to as GreenSeal, is the most flexible liner on the market, and a stalwart of any landscaper or building professional. Seen as the cheaper yet superior alternative to Butyl pond liner, SealEco EPDM is suitable for ponds of all sizes, fabricating into formal, box welded liners, and even lining water containment tanks. For natural ponds, EPDM pond liner can be supplied as a single sheet to your required size and then trimmed to the exacting shape once installed. We can supply SealEco in single sheets up to 800m2, or multiple sheets for joining on site. If you are interested in these larger sizes, please contact us.
AquaPLAN PVC Pond Liner
AquaPLAN is a premium 0.5mm PVC pond liner, manufactured in Sweden. The combination of material and thickness make this the perfect choice for small ponds and water features where an economical solution is required. AquaPLAN PVC pond liners are manufactured in a range of the most popular sizes, which we keep in stock ready for your project. These are supplied as a single sheet at the specified size and are very easily trimmed to shape once installed. The largest single sheet we offer is 200m2.
aquaSHIELD Protective Matting
aquaSHIELD protective matting is a high quality, non-woven polypropylene geotextile pond liner underlay for use with all types of pond liner. We would recommend that you do not install any liner without a protective pond liner underlay as this reduces the risk of damage during both installation and use, including from stones, roots and sharp objects.
White 200gms matting: suitable for small to medium-sized ponds, and especially with 0.5mm PVC pond liners.
Black 275gsm matting: suitable for all sizes of pond, lake, or lagoon. We would recommend using this with both SealEco and Firestone EPDM liners and for any liners in locations where you have a gritty or rocky substrate or higher density of roots.
Pond Liner Calculator
Here at Stephens Industries, we aid our customers throughout the UK with getting the right size materials for their requirements. To find the correct size of pond liner you require, please follow the rule-of-thumb instructions below or simply use our pond liner calculator. Measure the greatest width, greatest length and maximum depth. To calculate the size of liner you need:
Liner Width = maximum width + twice maximum depth
Liner Length = maximum length + twice maximum depth
Additional Accessories
Here at Stephens we recognise that while a pond liner may be the integral part to the service you require, but along with that additional accessories and products are needed to ensure the liner is installed correctly.
Firestone QuickSeam Tape
Firestone bonding adhesive and water based adhesive
Firestone QuickSeam Scrubber and pads
A selection of pumps and filters
Pond netting
Firestone Adhesives, Primers and Sealants
…and much more
Box Welded Liners
Box Welded Pond Liner is one of our most popular forms here at Stephens Industries. Plastic and Glass fibre liners provide shape, but are bulky, fragile and are only available in a very limited range of sizes. Flat sheet lining is convenient but can be difficult to shape and install into intricate shapes. Unlike Plastic and glass fibre liners, or sheet liners, Stephens Industries Rediliners Box Welded Pond Liner is prefabricated to almost any shape, without unattractive folds or creases.
These prefabricated box welded pond liners are constructed of flexible and durable SealEco EPDM liner. Within the design specification it is possible to include planting shelves, inlet and outlet pipes and overlaps for fixing. Our box welded pond liner solutions are more adaptive for our customers.
Simply excavate, lay protective matting, install liner and fill. Alternatively, if you would prefer this service to be fully done by us we can have the Stephens Industries installation team sent out to you to complete the job.
Koi Pond Installations
Rediliner Box Welded Pond Liners can also be used as part of koi pond installations throughout the UK. Being prefabricated to any shape or size, our expert team can work to the depth that is recommended when keeping koi fish. Koi, being larger than most fish need more room to move around – both vertically and horizontally and with Stephens Industries supplying Rediliner for various customers throughout the UK over the years, we sure can help you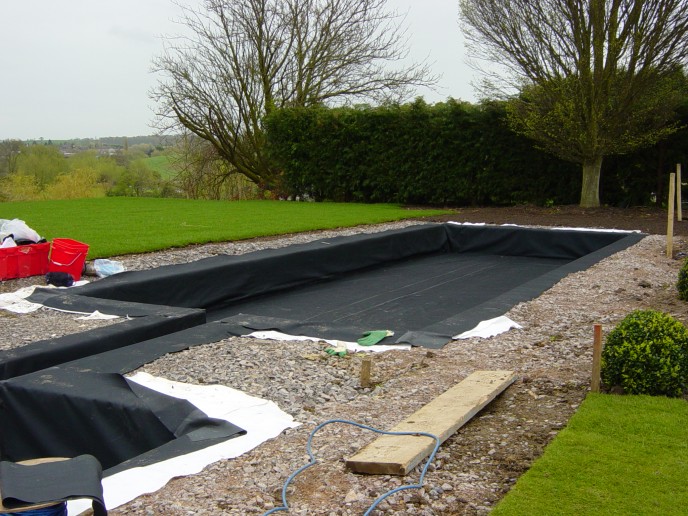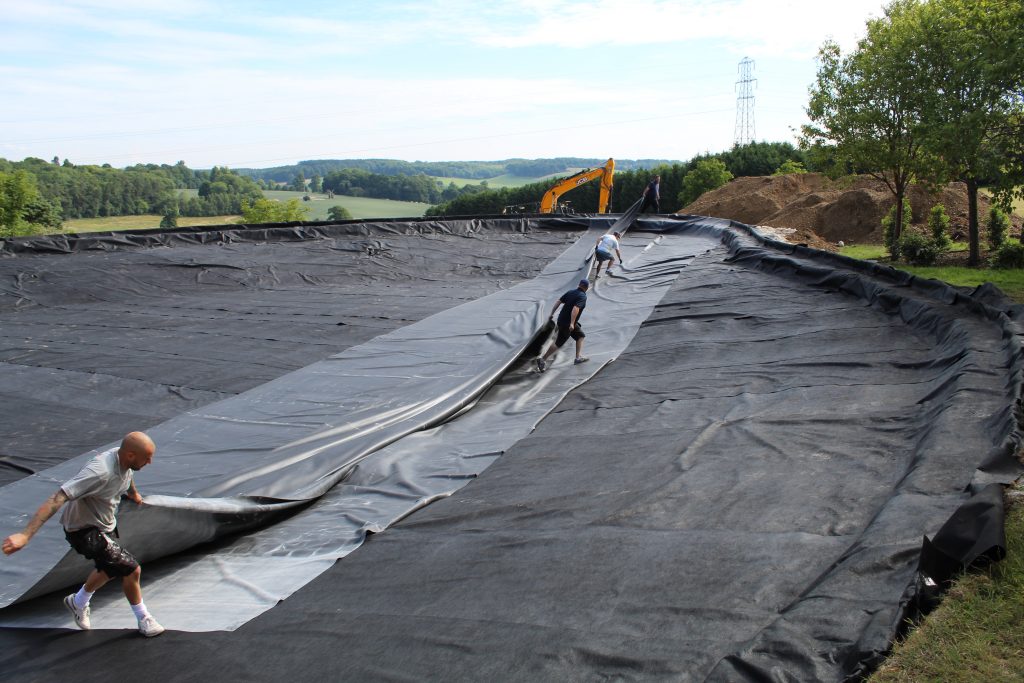 Installation Services
Stephens Industries has many years experience of in installing liners for ponds. We believe strongly that synthetic rubbers such as Firestone and Butyl / EPDM are the best materials for pond installation, as they are the most cost-effective over the life of the pond liner, typically 40 years. Cheaper materials are available, but they have a much shorter life expectancy.
As part of our pond installation service, we undertake site surveys to ensure that the pond or lake is properly prepared, to discuss the material options, measure the site accurately and review any special design and construction details such as bonding onto vertical walls and sealing around pipes. On agreement with all the details, our specialist trained team will install the liner.
Our installers are fully trained and qualified in Firestone, EPDM / Butyl and other specialist materials, and work throughout the UK. We believe passionately that Quality and Experience matters, so if you require a dedicated team to help you complete your project on time and with a quality finish, please contact us for a discussion about our expert pond installation service.